ABOUT 

THE 

ARTIST
Bonnie Bews was born in 1967 and raised in Queensville, a rural farm community in Southern Ontario, Canada. There she developed her imagination and keen sense of observation. During 1986 -1988 Bonnie attended Georgian College of applied Arts and Technology, Barrie, Ontario. She graduated recieving a 2nd year scholarship in creative arts. In 1990 Bonnie backpacked to Austrialia and througout Europe. While sketching in a piazza in Germany, she was approached by artist, Rudolf Schmid. This prominent Bavarian Glass painter showed an interest in Bews' style of work and offered her an apprenticeship at his studio www.glaeserne-scheune.de  Bonnie accepted this unique opportunity and returned to Germany in 1992 to discover a whole new medium including Hinterglas. Bonnie now reside in Muskoka, Ontario.  
In 2008, Bonnie's first Illustrated Children's book, 'Zelda and Esmeralda' was published. She now has 8 Illustrated books ~ Zelda and Esmeralda – 2008;  The Perfect Bear – 2009;  Zelda, Esmeralda & the Big Blue Sea – 2010;  Slimon the Slug – 2011; Dance into Spring – 2014; Camping Fun in the Summer – 2015; Autumn Leaves – 2017; Christmas with Friends – 2018
MUSKOKA – etched in time was launched in 2019.  Please click on that tab for more about it.
2020 – June 20th – SILENT HERO will be unveiled.  This is a visual biography of a heroic person. Glass panels will be on display in an outdoor gazebo. Also, new this year is my Fairy Courtyard – come out to see where the fairies now live.
Check out her Facebook page for current happenings
www.Hinterglas-facebook

---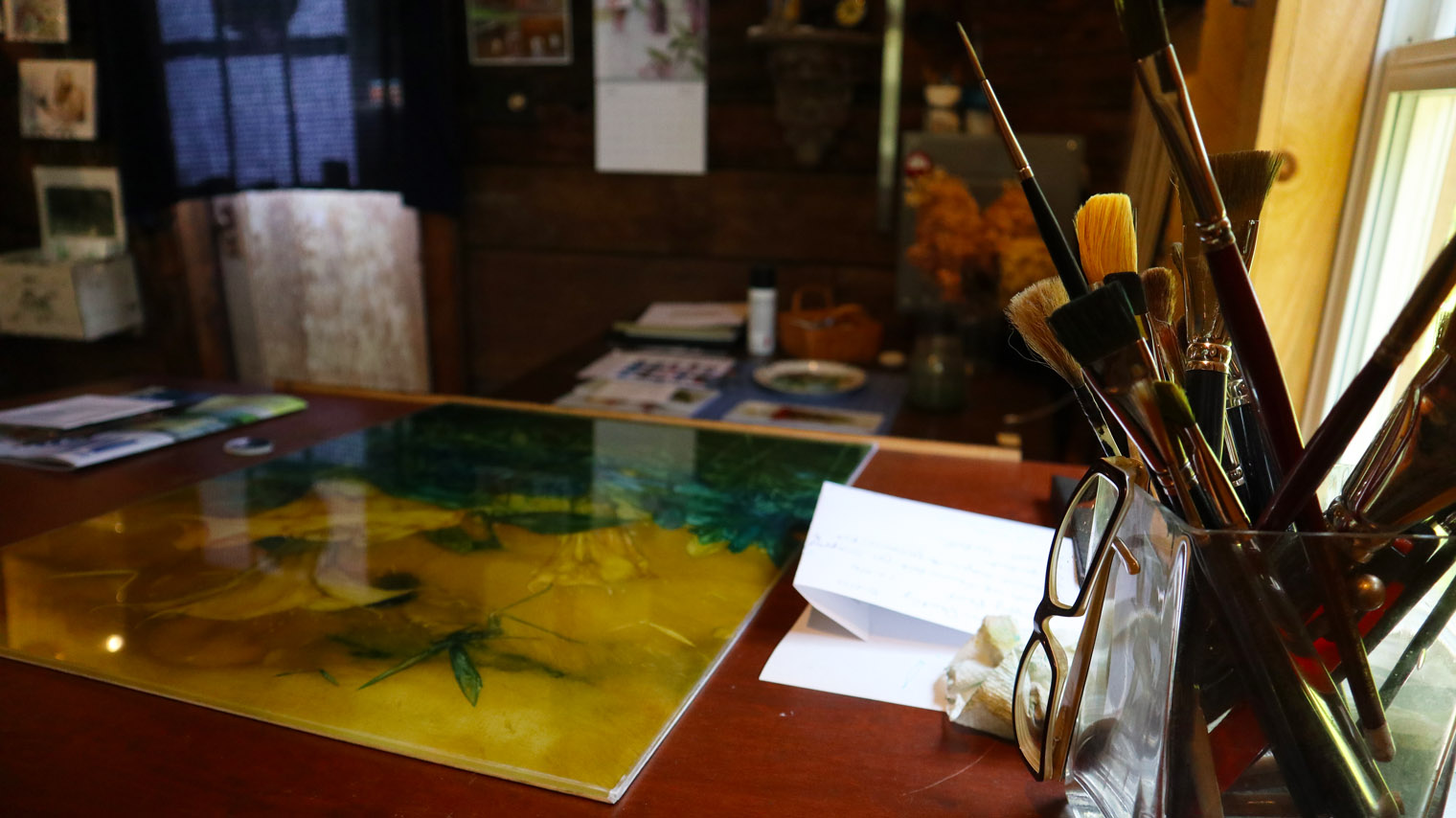 HINTERGLAS
Hinterglas or reverse glass painting is a traditional European technique in which the artist paints on the reverse side of the glass. The earliest examples of Hinterglas (cold painting) are from the time of Constantine, 3rd century. In the 13th and 14th century (Italy and Germany) the primary use of Hinterglas was to decorate furniture. By the 16th centuryh hinterglas gained popularity for its use of brilliant colours and intricate designs. In the 18th and 19th century, great demands for reverse glass painting opened many small businesses within the European community. The industry continued to thrive throughout Europe until the end of the 19th century when its demand was replaced by colour lithography and photography. Artist Bonnie Bews uses a method that allows the application of graphite and watercolour to the glass (developed by Rudolf Schmid/Germany).Her soft whimsical touch allows her to create paintings with delicate lines and translucent colours. The placement of a white backing or a second piece of glass against the image completes the process.
Copyright © Dandelion by Pexeto